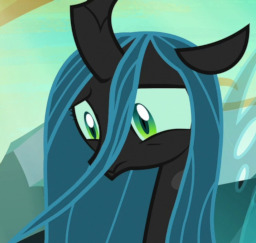 During a climatic battle, a panicked magical blast from Twilight results in Chrysalis receiving a crippling wound. Twilight dedicates herself to Chrysalis' recovery and, hopefully, redemption.
As Twilight will soon learn, Chrysalis' frozen heart is one that won't easily be melted.
Won 1st place in the"Dear Love: A Beautiful Discord" contest. Rated for suggestive content.
Special thanks to Midnight Quill and Peerimagination for help with editing/being my lifeline and Setokaiva for pre-reading assistance.
10/3 - Updated tag based on feedback.
Chapters (5)