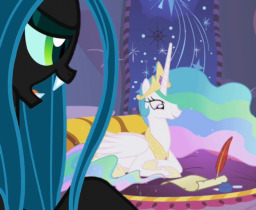 Source
Immortals are few and far between in Equestria, and they are all known to each other. Two of them are about to get to know each other a little better. Because one has just turned up uninvited in another's private chambers. Maybe it's time they had a chat?
This story contains enormous spoilers for season 6, and won't make a great deal of sense if you haven't seen that.
Proofread, edited and significantly improved by NaiadSagaIotaOar. Any remaining problems with the story are from where I didn't heed the advice given.
Chapters (3)