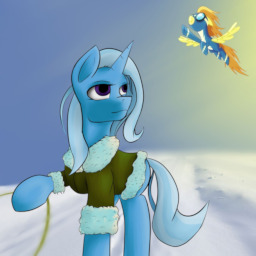 Source
Trixie needs to learn how to command the stage and dazzle her audience if she's to front her own travelling magic show after finishing school. The Wonderbolts, who sell out whole stadiums with their spectacular shows, offer work experience placements to schoolfillies Trixie's age. There is exactly one problem with this plan.
---
Proofread at the very last minute by NaiadSagaIotaOar.
---
This was written for DrakeyC as a part of Jinglemas 2020.
That said, it's not massively focused on Hearth's Warming, so can hopefully be enjoyed all year round.
Chapters (1)