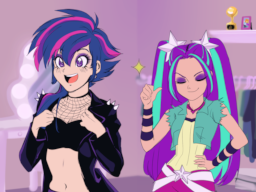 All her life, Twilight Sparkle has tried to be good, hard-working, and well-behaved. She's been told that's what she should strive to be, but what if she's missing out on the secret delights of being a rebel? A punk? A bad girl?
Following this train of thought, she concludes there's only one thing to do: an experiment.
And since she knows very little about rebelling, she'll need to find an expert to learn from...
Story idea pitched by Hopeful_Ink_Hoof in the Uncommon Dazzling Ships group.
Cover picture by rileyav
Proofread by NaiadSagaIotaOar
Chapters (7)