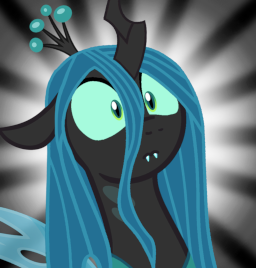 This story is a sequel to Chrysalis's First Royal Meeting
---
Twilight's attempts to open Chrysalis up to the idea of friendship continues with an even greater challenge: Her own friends. The relationship between her friends and Chrysalis has always been an awkward one, neither side willing to take that step toward each other in the name of friendship. It has gone on for far too long for Twilight, and she finally has concocted a plan that will put an end to their awkwardness and bring all of her friends together in the name of friendship.
Clearly this was going to be the most successful sleepover ever.
Special props to Setokaiva for the proofreading and being a major help.
Sex tag added due to naughty humor and innuendos.
Cover art by Zantyarz. I do not own this picture, but was given permission by the artist.
Chapters (5)