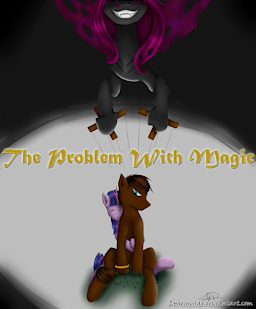 Source
This story is a sequel to My Little Dashie: Fourth Times the Charm
---
A man gets transported to Equestria thanks to a particularly strange event.
After doing some pretty dastardly things, he finds himself on the run from the law and ends up in the presence of one of the most unlikeliest characters who gives him a strange deal: find out the true meaning of friendship and the magic therein within one month, or spend the rest of his life imprisoned in limbo.
With his freedom on the line, the man has to learn the value of friendship and what he learns could change his life. For better or worse, only time can tell.
- Set around +10 years from the current time-line
- Story has ceased being canon
- Story has characters from various stories (with authorization from their authors)
- Strong language from the start (i.e. lots of swearing)
- Cover art by Ephemurai
- Pictures by LuckyBreak
- Old cover art - 2
- Old cover art - 1
==============
List of OC's and Characters
Chapters (38)