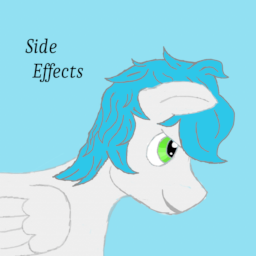 Source
Excess magic use has numerous ways of backfiring, most commonly exploding. Or more rarely, it could have interesting side effects none could have predicted. So imagine what blasting an evil moon goddess with the mother of all rainbows could result in.
Unfortunately for me, these so-called 'side effects' involved dragging my defenceless self through time and space from my normal everyday life in the most abrupt teleport known to man. Transforming me into a small strange pegasus thing in the process and promptly spitting my ass out into the most deranged forest I've ever seen.
Now my new body made it so I'm no taller than a bloody chair stool, I could barely walk with these alien legs, my size telling me I was younger than what I probably should be, and to add to my already horrendous situation I haven't eaten since I got here!
I don't know what I am, but I have the feeling I really shouldn't exist.
---
I'm not new to writing but this is my first story here. As such grammar corrections and criticism are welcome.
Enjoy.
Chapters (4)