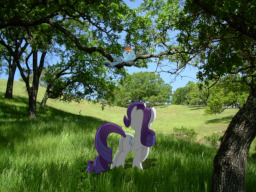 Source
Fooling around with magic is not usually a very smart thing to do, but for Twilight Sparkle it comes with her keenness to learn new things. After over-estimating the power flux in one of her spells, she and her friends are transported to our world: Earth.
At first no one is sure how to react to these cute little 'aliens', but due to lucky circumstances (and certain administrative influences) they are quickly welcomed by international community and adopted by the millions of die-hard fans as guests of honor.
Now, armed with diplomatic passports granting them free passage into most countries, and along with their human guide Andrew in tow, the Mane Six visit our world to try and learn about us, our various cultures, our past, our present, our ways, the differences between their world and ours, and also to find a way back home.
Chapters (1)