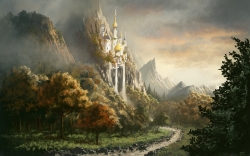 There is a world where Life and Death govern all imaginable realms. A world where Watchers guard over their planets and the creatures that roam them. In this world, a young soul goes on a journey to a place he never thought existed, after cutting an untold deal with Death.
Equestria, a place of magical creatures and mysteries, offers him a new chance at life. A chance he will have to pay dearly for. This is the written story of his adventures, some of the sorrows and victories of his life as he goes through great challenges and fights his inner darkness.
At the end of this journey, one begs the question: What is better? To be born good, or to overcome your evil side through great effort and sacrifice?
Tagged with Human for the prologue.
Follows show's cannon up until end of Season 2.
Now a published book!
And it's own TvTopes page!
Spanish translation: Here
First chapter published January 2012
Marked as Complete on 31st August 2014
Published (printed) on 25th November 2014
PM me for the full digital version of the now-printed book! (includes text PDF, full cover and fan art)
Chapters (37)