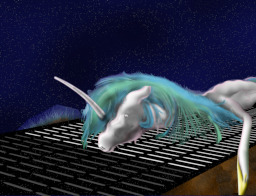 Source
Below her, the remains of the world, and everyone in it, spin slowly, around and around, in a sea of purple goo. But that doesn't mean Celestia's work is done. The Road lies ahead of her, and at its end—the most difficult decision of her life. Again.
How long can one pony keep hope alive?
Long.
2nd place in the "History Repeats" write-off.
Dramatic reading by AShadowOfCygnus.
Dramatic reading by Cherax.
On EQD Aug 12, 2014.
Chapters (1)