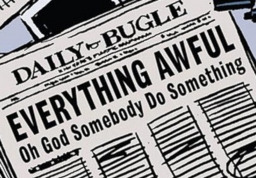 Source
In Equestria's far north lies the city of Dragonfall, widely regarded as the worst city in the entire world. Desperate and vulnerable following a terrible disaster, Dragonfall hires the mercenaries of the Sunheart Company to protect them, the largest organisation of assorted sociopaths in the entire world. And caught in the middle of it all is Lieutenant Agony, internationally infamous war criminal and sexual deviant, who believes himself destined for greatness, if only he weren't also the unluckiest stallion in the entire world.
Dragonfall will not release its prisoners easily, and Agony's awful coworkers are not helping matters. With his quick wits, dashing good looks, and willingness to violate any and all conventions of morality and good taste, can Agony find a way to escape the city, or will his karma finally catch up with him?
You decide!
---
Part of the Borderworld.
A comment-driven black comedy, with progression decided by popular vote.
WARNING: Story contains no sense of restraint. No content is too stupid or too edgy for Dragonfall to include.
Chapters (17)