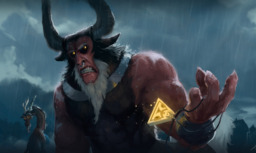 Source
Brief stories about Equestria as it might have been—or, you may suspect in darker hours, already is.
25. Necessary Evil: Lord Tirek will return to wreak havoc on Equestria... but not before he's needed.
24. Queen of Foals (Fausticorn):
I met a traveller from an antique land,
Who said—"Four vast and trunkless legs of stone
Stand in the desert. . . . Near them, on the sand,
Half sunk a shattered visage lies alone..."
23. The Mechanical Donkey (Cranky Doodle alt-universe): A colt working for the school paper uncovers an old donkey's secret.
22. The Element of Audacity (Twilight, Dash, Cthulhu): It would take a very brave, very stupid pony to defy the Eater.
21. The Gentle People (dark): The gryphon tribe that tried to follow a pony goddess.
20. It's a Trap! And Twilight knows it. But her opponent knows that she knows it. But she knows that Twilight knows that she knows that Twilight knows it...
19. Fraud!: Trixie is accused of cheating at cards.
18. Celerity: Rarity wonders what Celestia sees in her.
17. Worth It: Fluttershy teaches Twilight about the cost of love.
16. Self Image (Twilight, Rarity): Is beauty really only skin deep?
15. The Quiet One (Luna): Some ponies express emotions differently.
14. Special: Discord teaches Pound Cake an important lesson.
13. Twenty-one! (Pinkie Pie, Twilight; comedy, horror?): Twilight discovers the danger of asking Pinkie "why?"
12. Changeling Dream: You may think the cost of living on emotions is too high. But we know the cost.
11. Loyalty (Rainbow, Applejack): The job of an Element of Harmony is simple, and sometimes impossible.
10. [revoked]
9. Sombra's Curse (comedy): The terrible curse Sombra unleashed that made him king, and stole his soul!
8. Game of Immortals (Celestia, Discord; dark comedy): Celestia likes to win—no matter which side she plays.
7. The Pony Side (comedy): Darth Vader has more important things to share with Luke than who his father is.
6. No Regrets (sad): Looking back on her life, Twilight remembers how she treated Derpy, and faces some unpleasant truths about herself.
5. Shipping Costs (comedy): If you knew you were about to meet Celestia in the next life, you might ask yourself: Did you leave the world a better place? Did your friends know you loved them? Should you have written thirty-nine chapters of Celestia clop-fiction?
4. The Green Hills of Equestria (tragedy): Vincent's big-game hunting trip was a success ... almost.
3. Mare of the Rings (Fluttershy, Rainbow Dash; comedy, LotR): The greatest could not be trusted with the Ring. So Gandalf sought out the humblest. Maybe too humble....
2. Happy Thoughts (horror): Her sun, happy to be in its place in the sky, wrapped the land in its warm embrace, and flowers bloomed in her hoofprints. Celestia smiled. It was going to be another perfect day in Equestria. And all she had to do was think happy thoughts. Again.
1. The Pony: Once upon a midnight dreary, while I clicked weak and weary,
Thru many a vile and bilious image on slash-b of yore...
Original cover art by ModeratelyDeviant@DeviantArt
Chapters (22)