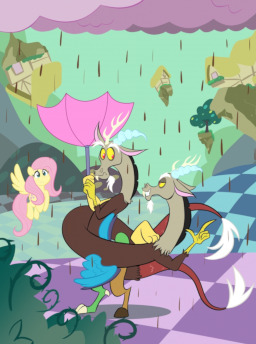 Discord has failed to break the friendship between the bearers of the Elements of Harmony. Desperate and with a rainbow of friendship blasting towards him, he teleports himself to a future where the Elements of Harmony are no more so that he could trade places with his future counterpart.
What he didn't know was that in this future, he has been reformed and the ponies there think he's somehow lost his memory and are determined to refriend him. Gag!
Meanwhile, the reformed Discord is teleported to the past, facing very hostile ponies and a world of Chaos his past counterpart had created. Chaos is a wonderful thing and he was all up for having some fun but what was the point if he had nopony to share it with?
Chapters (4)