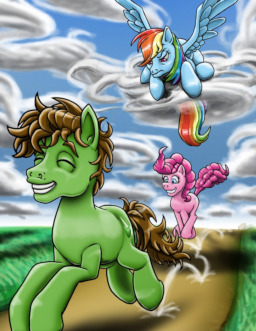 Source
A new pony has arrived in Ponyville on the day of Summer Sun Celebration. Who is he? He's nice but when the residents of the town learn more about him, even more unanswered questions seem to pop up.
Can anypony figure out this mystery?
Probably when they actually ask the right question.
Are they going to?
No
Will he interfere with events?
We'll see.
---
This is just an idea I had and wrote by hand (later edited onto a computer) in a matter of a few hours. I have no delusions that this is a perfect story. Just some fun I had when writing out ideas. For the most part it will focus on different ponies crossing paths with him as the series goes on and not directly follow him. This IS technically a Human in Equestria story but by no means is he ordinary, both in body and mind as you will notice in the first chapter. He WILL be unrealistic, so please no comments about him not reacting to the situation like a normal person.
As for the back story of the character, I had originally included it but at second glance, I felt it would be better for both people inside and outside of the story to figure it out.
The amazing artwork was done by Mix-up. You can check out his other artworks on his Deviant Art page.
Chapters (17)