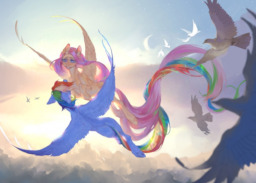 Source
This story is a sequel to Futile Devices
---
Fluttershy had a plan to tell Rainbow Dash her true feelings, and this time she wouldn't back down. Everything would be perfect. It had to be. Rainbow deserved the best, after all.
---
Edited/proofread by: The Legendary Bill Cipher, Zontan, Lofty, Red Parade, Moonshot, Stynger Skies, themoontonite, Regidar, Wishcometrue, Drider, Schattendrache, The Hat Man, Seer, Flashgen, ZeroMonkey, Skye Jr, Nailah, and Dreamer Deceiver. Thank you so much for all your help!
---
Written for the Expanding Universes contest for the Quills and Sofas Speedwriting Group. The prompt was for each of us to submit a story, and then someone else would write a prequel or a sequel. I was so excited to get themoontonite's brilliant Futile Devices as my prompt. You can find us on Discord here! We're pretty fun, in my opinion, and sometimes we even write things!
Chapters (1)