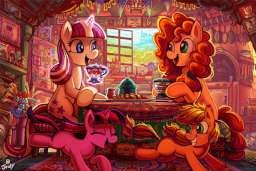 Source
We walk down our long roads of life, but what of the roads not taken? Twilight and Applejack are carried along a different path, where their fates were bound in new ways. Fresh sorrows and avoided crisis gives friendship's flower a new shape.
This story will make an alternative universe, but will start grounded in the world we know. Have you read my other works? I love canon. I will respect canon, but we are also changing a core fact, and its effects will ripple outward. Our beloved ponies will be changed, as they must. The stream of fate carries them on tides we never witnessed before.
Twilight, Applejack, I hope you're both ready. Come, the water's fine, and I invite you to swim with me. Let us see what would happen if Applejack's mother survived where fate had once demanded her end.
Done for a patron, will update 1/month with 4k chapters.
Cover art by Jowybean!
Chapters (30)