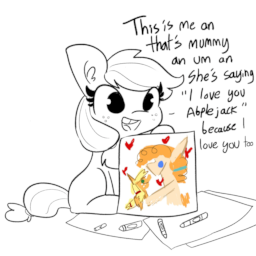 Source
Sometimes, we hit those rough spots real hard. They might hurt a little, enough to make you wince. They'll scab over or you bandage them, and given enough time, it fixes up and you're doing good again. But those spots sometimes leave a mark. And when you look at them, you can still feel that phantom lingering in the back of your mind. You know the one; the kind that never really goes away.
But sometimes there's somepony there to make them hurt less. They might be a big, handsome husband, or your firstborn quiet and strong son. Or maybe just the cutest little filly who loves apples more than anything. Well, almost more than anything.
Artwork by TJPones! Pre-read by Raleigh!
Chapters (1)