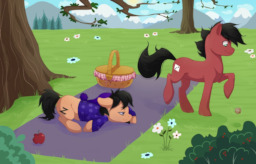 Hearth's Warming is coming to town, bringing with it cold and a good time to nestle with a special somepony, but what if that special one doesn't know you care about them? Well, more than as a friend.
Friendly keywords: M/M Pairing, Clean, Silly pones
Sidenote: Done not for a Patreon patron but a Fiverr one! Turns out I work there too.
Art done by Vol4ar.
Chapters (2)