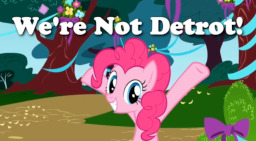 Source
Fifty years ago, the first thing most ponies thought when they heard the word "Ponyville" was "What?"
Ten years ago, it was "Monster attacks."
Right now, it's "Princess Twilight Sparkle," which is certainly a step in the right direction. Mayor Mare wants to keep up the momentum, but she needs help. And it just so happens that Twilight needs a favor to push this "School of Friendship" she's so eager to build past the zoning board...
Awarded "Most Creative Plot" in the Original Parings group's May 2020 Pairings Contest.
Chapters (1)