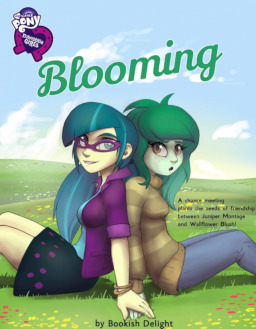 Source
After trading in a memory-erasing magic artifact for a second chance, all of Wallflower Blush's social insecurities were quickly forgotten.
Except for the part where that didn't happen. Instead, Wallflower now has to confront old grudges she's held against the students of Canterlot High School, along with the reasons she formed them to begin with. Some are petty, some are painful, but to Wallflower, they're all real.
Up until now, confronting them has always ended badly. However, after several chance meetings, Wallflower's odds look slightly better than usual—especially after bumping into a quirky indie movie director who seems to really enjoy her company.
Can Wallflower's blossoming friendships—and sudden romance—make up for the sadness and mistakes of her friendless past?
Part of the Montage Cinematic Universe.
Cover Artwork: Gabbslines
Chapters (17)