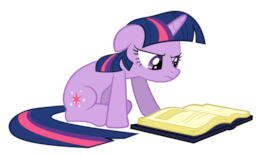 It's official. Twilight Sparkle has entered the highly competitive world of book writing.
The only problem? Her stories are far too complicated, confusing, and long for most ordinary ponies to even understand -- Twilight's close friends included.
Now Twilight must try her hooves at something she thought nearly impossible.
Writing a simple story.
Chapters (1)