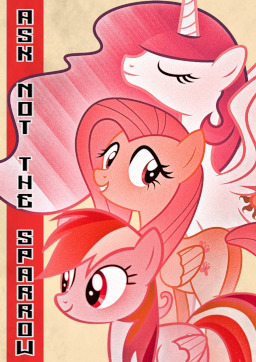 A story set in an Equestria that could have been...
Rarity, the personal student of Princess Luna, defeated Daybreaker with her new friends and reawakened the lost Elements of Harmony. With Princess Celestia's return, the long-lost tradition of the Summer Sun Celebration is going to be revived for the first time in a thousand years - but first Celestia will need to reclaim her power over the Sun!
----------------------------
Don't worry, there's no previous story you missed that explains the setting. I was thinking of which characters could have their roles swapped, and I got to thinking - what if I just switched everyone? Depending on how people like this, I might write stories centered around other swapped pairings.
Written for the Secrets: A Swapped Roles Contest
Thank you to all my readers! I couldn't do it without you.
Chapters (1)