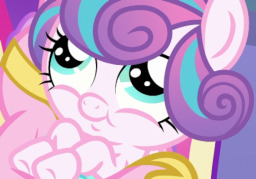 Source
This story is a sequel to Twilight makes tea.
---
They thought it was over. They thought they were safe. They thought everything would return to normal, and Equestrian society would finally be able to breathe easy knowing that it couldn't possible get any worse.
But everypony forgot one very important, itsy-bitsy, adorably destructive, tiny little detail.
---
This is a continuation of the "X makes" anthology by Overlord-Flinx
"If you want, you can write it. " - the magnificent Overlord-Flinx
Chapters (1)