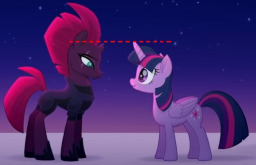 Source
Twilight's been meaning to ask.
Rated teen for alcohol and dick jokes.
---
I didn't originally mean for this to be my entry into Aragon and Friends' THE COMEDY (IS SERIOUS BUSINESS) CONTEST, but it worked out perfectly.
Content Warning: wildly waveringly written drunk dialogue. And a pun.
Reading by SNinja! Go support him on YouTube!
Chapters (2)