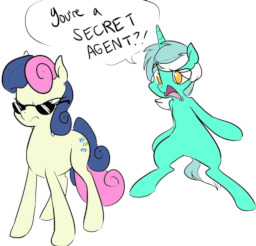 Source
This story is a sequel to Lyra Visits Bon Bon in Jail
---
Bon Bon has been not entirely truthful over the years with her "Best Friend" Lyra, who finally she demands she come completely clean. Anything she's been holding in or just been embarrassed to say, she can confess in a completely non-judgmental setting. Bon Bon readily takes up her "Best Friend's" offer. Some of the secrets aired are mundane at best. But others? Well, you'll just have to read the story, won't you?

---
Rated Teen for reference to but no actual depiction of sex. | For more Bon Bon shenanigans, be sure to check out Bon Bon thinks Griffons Aren't Real. Happy readings!
---
A hearty thank you to my Patreon patrons Singularity Dream, ocalhoun, and Littlecolt!
Chapters (1)