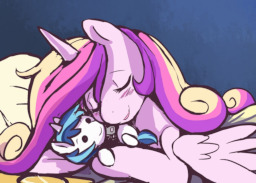 Discord can't sleep. So he's going to make sure Cadance can't either. That's what friends do, right?
This vignette takes place 2-5 years into the future.
---
"I quite enjoyed." ~Skywriter, whose Cadance stories are much better than mine; you should read them AFTER this one.
---
A hearty thank you to my Patreon patrons Singularity Dream, ocalhoun, and Littlecolt!
Chapters (1)