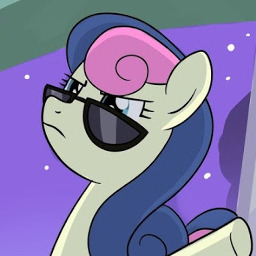 They were actually making progress in the conversation department. "Hey, sunshine, you're a genius, aren't you? Leading an army and all that. Help me with this crossword."
---
Note: I did not make up the name S.M.I.L.E. It is the actual name of the secret agency Sweetie Drops (Bon-Bon) mentioned being a part of in Season 5 Episode 9.
THIS IS NOT A ROMANCE STORY.
I refer to 'Bon-Bon' as 'Sweetie Drops' in this story because it felt right. Instead of 'Bon-Bon', the pony who works in Sweetie Drops Candies selling candies, she is 'Sweetie Drops', the special agent who works for the "super-secret anti-monster agency" as she refers it in Slice of Life.
Cover art by some guy called FanaticPanda on DeviantArt.
Chapters (1)