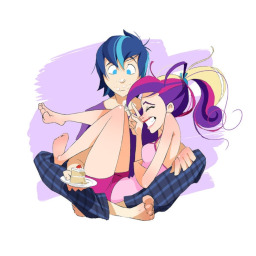 Source
It took Cadance four meetings to ask for Shining Armor's name and only one to tell him not to fall for her. It took Shining Armor one meeting to realise Cadance was very likely insane and four for him to decide that he was okay with it.
---
Note: The characters are a bit OOC, or they are OOC. I'm interpreting them in their younger years, around their early twenties, when they have just met each other in University or College.
Cover by guywhodoesart.
Chapters (1)