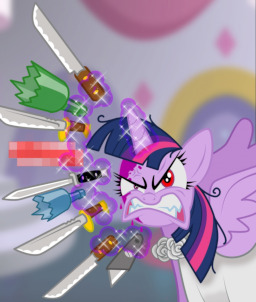 This story is a sequel to Beer and a Knife Fight 2: Celestia Discovers Iced Tea
---
Twilight and Celestia have endured quite a lot in the course of their relationship. Now, poised on the cusp of matrimony, a sudden revelation threatens to tear their love asunder. By the end of the day, life as they know it will end. The South will rise. The fabric of space-time will be rent asunder. Words will be said that cannot be unsaid. And one thing's for sure:
There will be beer and knife fights.
tw: epic offscreen sword fights, Southernisms, super-double secret incest, convoluted plots, more than enough mind-control, and considerable amounts of trolling.
Cover by iisaw!
"Shades of Man of Steel... before everything turned into everything." -Icy Shake
Chapters (8)