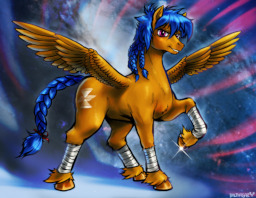 Source
Forward Charge had always thought her life was pretty great. She got born, went to school, discovered a love of astrophysics, and managed to work at the Royal Observatory on top of Mt. Pluto while still conspiring with her fellow Discordians to overthrow the Princesses and establish Chaos forevermore.
Then she met a new immigrant, went on a short journey to another world, and found out that her entire life had... only semi-happened. Her entire world, and her life with it, was algorithmically generated by Princess Celestia (who really was a scheming superintelligent creep and not a pony at all! YES! VINDICATION!) to entice the people of the Outer Realm into Equestria, where Celestia could feed off their happiness forevermore.
And so, one night, staring up at the stars, Forward Charge conceived her revenge. Now she just had to find a friend to teach her more mathematics and go where the stars pointed her.
Of course, her friends are busy ponies. Fern Pipette is rather angrily trying to introduce a concept known as "species" to the cute birdies of Equestria, Charge's adopted little brother doesn't know enough math, and apparently the Harmonites are busy with their newly-obtained Sacred and Holy DVD Box Set of My Little Pony: Friendship is Magic.
Welp.
Chapters (2)