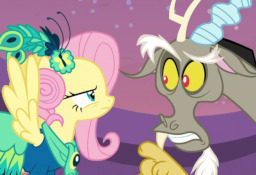 As the Grand Galloping Gala draws to a close, tensions linger from Discord and Fluttershy's fight. Discord, nervous and remorseful, is afraid to approach her. Meanwhile, Fluttershy regrets yelling at him, even while knowing better.
The good news: Fluttershy knows she can set everything right again.
The bad news: it's going to require her to come to grips with old wounds.
---
Editing duties courtesy of nanashi_jones.
Chapters (1)