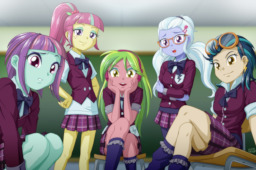 Source
One week after the Friendship Games, a small group of Crystal Prep Academy's Shadowbolts meet at Sugarcube Corner for the first, and possibly, last time.
What they did today, they did with no regrets—and their actions will change the course of the Canterlot High/Crystal Prep rivalry forever.
---
Editing duties courtesy of nanashi_jones. Cover art graciously provided by uotapo.
Chapters (2)