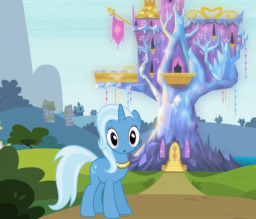 Source
Days after Tirek's near-takeover of Equestria, The Great And Powerful Trixie travels to Ponyville, intent on settling her rivalry with Twilight Sparkle once and for all. No trinkets to fudge her abilities, no megalomania to apologize for -- just pure and simple magician's honor!
Upon her arrival, however, she quickly learns that the information she has on Ponyville -- and Twilight -- is more than a little dated.
---
Edits (as well as a bit of scene inspiration) courtesy of nanashi_jones.
Chapters (4)