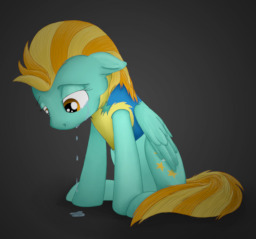 Lightning Dust gave her all when it came to attacking a treacherous Discord. It turns out that she was sent to Earth with a good number of other ponies. What will Mike do as he slowly turns into the Wonderbolt? What will he do with his family? His friends? His job? He has to make decisions that will affect everyone.
She's found compatriots, and family. She is dedicated to making sure they are safe. But that's not going to be easy.
A Five Score Divided by Four story
Many thanks to my collaborator Phenrys, and his story Dust on the Wind: Irony's Story
And I now have three pre-readers, helping me keep this story going, providing encouragement and constructive criticism. They are the immortal Phenrys, exsnaggerwes, and Kitsy-Chan. Thank you to all who comment and enjoy the story as much as I do!
And I made it into the feature box!!! On 3/17/15! YAY!!!
In case you didn't know, this story has a sequel. It's called the Epsilon Pegasus. I hope you enjoy the read!
Chapters (80)