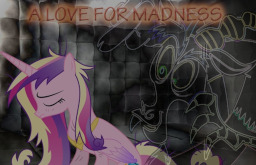 Made for the fanfiction group Five Score Multiplied By More, inspired from Twisted Spectrum's hit fanfiction, Five Score Divided By Four.
Cancelled 4/5/16, go here for story on why and what would have been.
Act1: A strange new patient has sought refuge at the Eastern State Mental Hospital of Virginia in early May of 2020; a pony on the verge of a psychotic breakdown who bears an uncanny resemblance to the My Little Pony character Princess Mi Amore Cadenza, aka Cadance, that claims she is actually a 25-year-old human who somehow transformed into her days after his latest birthday...
Act 2: With things growing more chaotic with the world now filled with people-turned-ponies, and haunted by her own post-traumatic hallucinations of the mad god responsible for it, Cadance must reclaim her sanity and sense of self, and seeks to meet others like her and hopefully find a way back home...
Chapters (25)