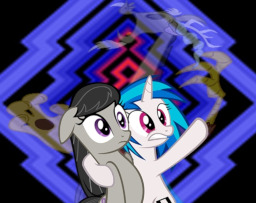 Set in Five Score, Multiplied By More, based on the hit fanfiction Five Score Divided By Four.
He's an eccentric, aspiring disc jockey from the commons of New Jersey. She's a refined, aspiring classical musician from a family of old money. Vic Spencer and Olivia Ravensdale couldn't be more different, but have been a shining example of opposites attracting. However, they discover their relationship may have more to it then they thought when their lives are turned upside down as a strange transformation overcomes them, caused by a mad god from a world once thought to be fictional. As the strange phenomenon occurs throughout the world, they look for answers of what to do next.
Rated Teen for some strong language
Pre-read by Luna-cy, big thanks!
Chapters (18)