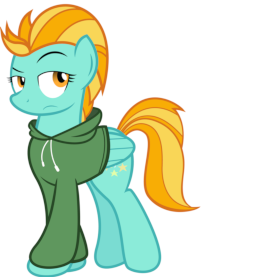 Source
First, bronies become characters from the show. I, along with most of the world, am not cut in for all this drama. Of course, I don't get to chose the fate behind who becomes ponies next. After a few self-injuries hoping to wake up followed by some screaming sessions, I'm now in the body of a pony who's ego challenges Rainbow Dash's (which, until now, I never thought possible). Now, I (am forced to) set off on a journey to New York while making new friends and whatnot...Yeah, I know. Nothing's that simple. It never is. You know those moments when you feel like the world is completely against you for the hell of it? Wake me up when luck runs in my favor.
Part of the PonyEarthverse. If you have not heard of the PonyEarthverse, I highly recommend looking into it before checking out my story. Remember, the events of the story take place BEFORE season 3. This is prior to 'Wonderbolt Academy'. The main character and everyone else will treat Lightning Dust as a background pony.
Also, a thousand "thank you"s to Clam Stacker for letting me use his awesome art as a cover image for my story.
Chapters (4)