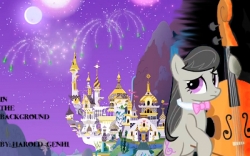 After the mishap of the Grand Galloping Gala, Octavia Pie's Prestigious Classical Career came to a screeching halt as the disgruntled party planner fired her for her mistaken playful participation in the Pony Pokey. Feeling down and angry, Octavia can only look to the future and hope to salvage what's left of her reputation, and with a surprise opportunity, she plans on presenting Equestria with a masterpiece. The road to find inspiration is a long an arduous one, but one can only dream of the gifts and realizations that lie at the end.
**Sequel can be found here:
http://www.fimfiction.net/story/12089/Everything-Ends...
Chapters (16)