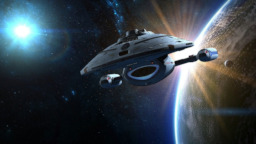 This story is a sequel to Shuttlepod Down
---
Viernak Rhok, Midnight Station. Known throughout the Delta Quadrant as where sentients go to die. Few who see it ever live to talk about it, and for those forced to work there, even the thought of escape is a sentence to the deepest part of the mines. Their masters seek slaves to work, to toil and dig. Slaves, like the crew of the USS Voyager. Abducted, their hope lies with the few remaining residents of the ship. Can the youngest crew members of the Voyager find Captain Janeway and the rest? And if they do, can they find a way to get them back home.
As is quite regular, story concept and characterizations have one wonderful source, KITSY-CHAN!!!
Thanks to my pre-readers Harts Fire, Kitsy-Chan and a few bronies I know that are not on fimfic, but still read and are huge Star Trek fans like the author is.
Hope you all enjoy!
Chapters (5)