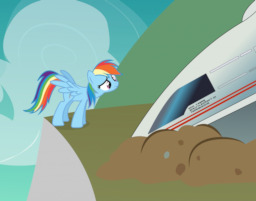 Source
If you liked this story, I've got a sequel going on! Take a look at Rescue at Midnight Station
Sometimes friendships, like ponies, are more than what they seem. Sometimes it's hard to tell what makes a friendship special. Sometimes, all it can be called is...Magic. When a Shuttle crashes outside of Ponyville, the friendships that grow from different beings from different cultures bring the ponies and humans together on common ground.
First off, the story idea....you know who came up with this brilliant idea...Kitsy-Chan.
Cover art by Alkarasu...
Chapters (2)