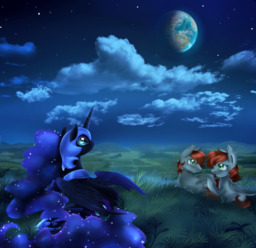 Source
This story is a sequel to The Best Nightmare Of My Life
---
Jeanne Tempest Jones, or Tempest to her friends, leads a rather ordinary life. At least for a teenager. However, one night everything changes. She wakes up in a mysterious land in a strange body, one that is feared and hated by the locals. Meanwhile, her boyfriend, Brian, and his twin sister Brianna find themselves along for the ride halfway across Equestria. Under the tender care of the Thestral (Bat Ponies) community, they will have their own challenges to face.
Now faced with numerous troubles, the largest being that no one seems to trust her, just how exactly will Tempest and her two friends reunite and find their way home?
---
Marked as a sequel to The Best Nightmare of my Life, as the concept being further explored is the one that sparked the Halloween One-shot. This is less comedy-oriented and more serious as to the topic of "Human looking like a villain" though.
(Title is once more a twist on the song "The Best Day of my Life")
Chapters (5)