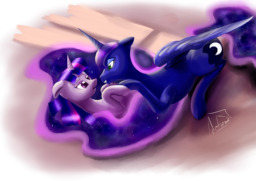 Source
Secrets. Everypony has them, and as they get older the more numerous they become. Their benevolent ruler Celestia herself has lost track of just how many secrets she holds, but Twilight and Luna are going to find out quite a few of them. Follow Twilight and Luna as they discover things about themselves, and those dear to them, as memories and secrets are brought to the light.
---
Image - Done by Archonix.
Note - The writing is the earliest I have of what I've done. As such it's quite sloppy compared to my standards today. Slated for a rewrite/full editing in the future. At some point.
Chapters (24)