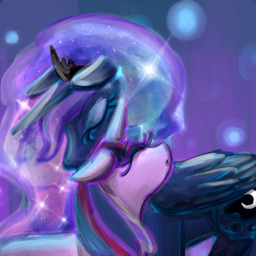 Source
The next Nightmare Night is approaching fast, and this time Luna's going to come to scare everypony as Nightmare Moon the first time intentionally. A few days before she leaves for Ponyville though, she discovers the friendship reports Twilight has been sending to Celestia. Interested in these, she reads them and realizes she has a crush on Twilight Sparkle.
How will she react to this revelation, and will Twilight return those feelings?
Cover image is by RyuRedwings. Editing done by Destinae Spring on chapters 1 and 2.
Chapters (17)