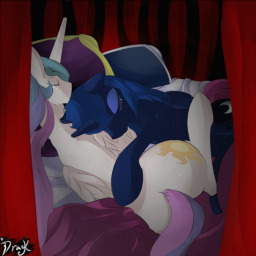 Source
Celestia hasn't taken one day off since she banished Nightmare Moon all those years ago. Its hard to believe, but when you had to rule a kingdom by yourself for a thousand years, it becomes second nature to never stop working.
But Luna thinks she would benefit from spending the day with her as sisters, the same way they did when they were fillies. It would nice to get out of the castle for a day, letting their manes hang loose. And so Celestia takes her up on the idea.
At the same time, Celestia has been experiencing nightmares about a certain day of her life. It continues to haunt her, but she doesn't know why for sure. Maybe today, she can get past it...
Cover image by Dragk.
WARNING: There is no clop in this story. I just used that image because it matches a scene at the end. Its more like snuggling your favorite pet. And this has an Everyone rating anyways, silly filly.
Chapters (1)