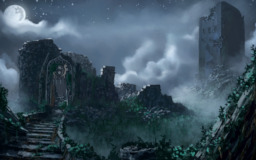 Following the defeat of Tirek, Celestia and Luna need a moment to breathe. Nopony could blame them, but a new letter from Twilight has Celestia intrigued. Their old castle will be abandoned again, along with the memories it contained. Hearing this, Celestia encourages Luna to go visit the Castle of the Two Sisters once again. It has been over a thousand years since they last stepped hoof in there, and they may not know what they find. However, they will learn something shocking about their old mentor, Starswirl the Bearded...
Takes place right after the season 4 finale, Twilight's Kingdom. This story draws heavily on "Journal of the Two Sisters" by Amy Keating Rogers, so reading it is recommended, but not required.
Edited with the help of Kirishala Evenstar. Cover image by moe.
Chapters (1)