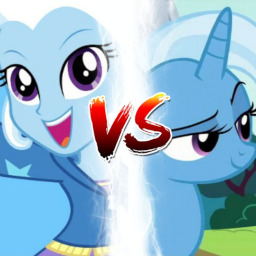 After foiling Wallflower Blush's scheme, Sunset decides to spend some downtime with Starlight in the human world. They catch up for a while, but soon discover that they have something unique in common: The Trixie from their universe helped save the day at least once. Grateful for this trait, Starlight decides that both Trixies should meet up, since they're heroes and all.
And then the inevitable happens: Both Trixies meet up with each other and immediately decide to have a competition to figure out which Trixie is the Greatest and Most Powerful.
Things only escalate from there.
Edited with the help of Salnalus. Thanks to Amber Solaen for putting the Versus graphic on the image. Featured on 3/18/2018.
Chapters (1)