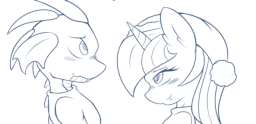 Five years after the events of Shadow Play, things have changed for Spike. He now has a pair of wings, he's the size of a teenage dragon...and he had to watch Rarity be engaged to another pony. Naturally, this crushed him, but it's four years after the fact.
Still, he has several regrets over how he handled things with Rarity. Wanting to know how to get past this, he takes up Applejack's advice and asks Twilight how to talk to girls in a romantic way. She agrees to help him get past his issues, but Spike soon discovers feeling he didn't expect, buried feelings that were there for years. It catches him off guard big time.
The question will soon become: Should he go forward with those feelings?
Part 1 of the My Little Kirin Saga. Part 2, How To Raise A Kirin in 12,371 Steps, can be found here. Rated Teen for later suggestive content. Cover image by Ambris. Major thanks to Salnalus for helping me edit this story.
Chapters (14)