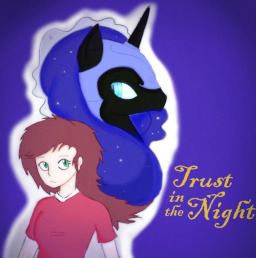 Niamh, an introverted student of veterinary science, finds herself transported to a strange world inhabited by ponies. Of course, that means becoming one herself. Now she must prove to the other ponies that she is not the 'Nightmare Moon' they think she is, and earn their trust, while they must earn hers. Especially this 'Princess Luna' character.
But two questions stand out above the rest as being truly important: How did she get there, and why?
---
Featured 19/03/14 Didn't expect that.
Amazing cover art was done by the extremely talented MrFulp.
Chapters (4)