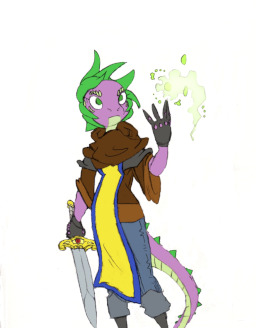 Source
A human wakes up to find that not only has he been altered in species and gender, but that he has also landed halfway across the world from Equestria, in an unfamiliar land.
This is not that story. Not yet, anyway.
A decade in passing and Kaz has gained a reputation as a member of a well-known group of explorers traveling the world. Not once have they set foot on Equestrian soil, and she was content to keep it that way, for her appearance would bring about unwanted attention from a few certain ponies and one certain baby dragon. So what happens when the rest of the group hears of unbelievable tales of Equestria, and decide that it's time they paid a visit?
An impending disaster, that's what.
Chapters (3)