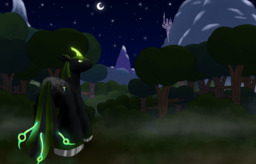 After witnessing Luna's banishment and return, a mysterious pony takes it upon himself to show Luna that her work at night truly is appreciated.
Trying to overcome his millenniums-worth of social-ineptitude, the stallion fights to stop the Night Princess' re-emerging envy before it's too late. All while attempting to avoid Celestia, due to her hidden misconception that he is the reason her sister became Nightmare Moon.
The Prequestrian Dialect magic language used in the story was created by me.
A translation guide of it can be found here.
(Note: Prologues 1-5 do not include the main MLP cast, they are intended to introduce the OC's so the reader will better understand them and their actions throughout the story.
Also, yes I do realize I have more than 10 characters shown on the list, that is because I'm going to include dadgum near everypony in this fic.)
Chapters (16)