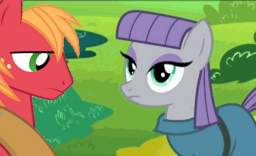 Pinkie Pie is bringing her big sister Maud around on a tour of Ponyville. While looking around Sweet Apple Acres, Maud loses her pet rock, Boulder. She receives help from Big Macintosh, and the two have a nice, deep conversation.
Thanks to RainbowBob for the idea for this ship.
Now with TWO YouTube Readings! One by Arwhale and one by DRWolf!
Now with a Spanish translation!
Chapters (1)